Kiss
Whole New World Gel Fantasy Nails
Item 2581314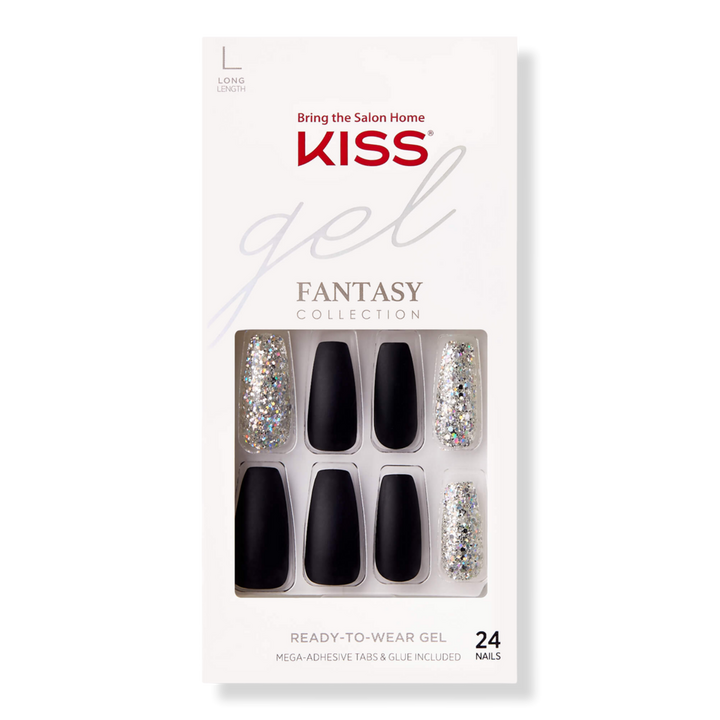 Summary
KISS Gel Fantasy Nails Whole New World are a ready-to-wear manicure with an ultra-smooth finish that has an amazing gel effect! Nails take just minutes to apply, and you can choose to glue them on or use the mega-adhesive tabs. Long-lasting up to 7-day wear!
Details

Features

Can apply in two ways
Up to 7 days of wear
Long Length
Coffin Shape
Matte Finish

Includes

28 nails
24 mega hold tabs
Pink gel glue (0.07oz)
Nail File
Wood Stick
How To Use

PREP: Clean nails with polish remover and wash hands thoroughly with soap; select correct size nail for each finger and set aside in order. Nails are sized by number, noted underneath nail.

GLUE APPLICATION:

Apply glue to back of artificial nail.
Apply glue to natural nail.
Align with cuticle, gently press on & hold for 5 seconds.

EXPERT TIP: Apply enough glue to avoid air pockets, secure adhesion, and extend wear.

REMOVAL: Trim & file surface to disrupt protective top coat. Soak nails in acetone polish remover until soft. Wipe off softened nails & glue. Do not force or pull nails off.

Precautions: Cyanoacrylate. Danger. Bonds skin and eyes in seconds. Causes skin irritation. Causes serious eye irritation. May cause respiratory irritation. Keep out of the reach of children. Keep away from eyes. Causes skin irritation. Causes eye irritation. May cause respiratory irritation. IF IN EYES: Rinse cautiously with water for several minutes. Remove contact lenses if present and easy to do so. IF ON SKIN: Wash with plenty of soap and water then gently peel apart. Seek medical attention. Avoid breathing vapors. use only as directed. Use only in a well-ventilated area. Do not use if nail or surrounding skin is damaged or inflamed.
Ingredients

Nails: ABS Plastic - Made in China. Glue: Ethyl Cyanoacrylate, Polymethyl Methacrylate, Red 7 Lake (CI 15850:1) - Made in Korea. Adhesive Tabs: Acrylic Acid, Ethylhexyl Acrylate, Hydroxycyclohexyl Phenyl Ketone - Made in Korea.