Use the following zoom and pan buttons to control the image that follows them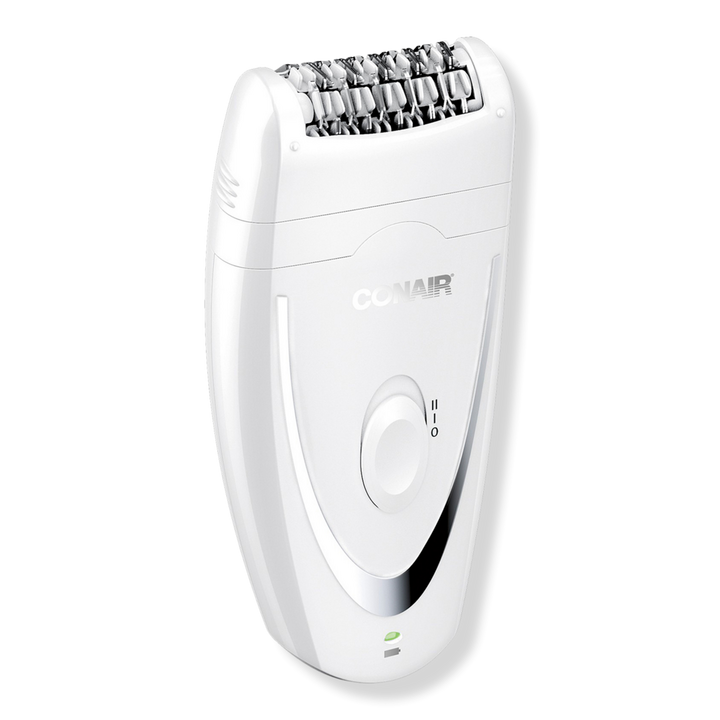 Summary
Conair Total Body Epilator has a sleek ergonomic design with 40 ultra precise tweezers to remove even the finest hairs from the root, for smooth skin.
Details

Benefits

Precise trimming for delicate areas
Tweezers quickly remove the finest hair at the root for smooth, clear skin
Smooth results; lasts up to 6 weeks
Cordless/rechargeable
Comes with a washable sensitive skin attachment for delicate areas

Features

40 Tweezers: safe on your most sensitive areas
Two speeds designed to capture even the shortest hair
Attachment for sensitive skin
How To Use

If you are new to epilation or have not used an epilator in a long time, it may take a short while for your skin to adapt to epilation. Initial discomfort felt will decrease over time. While using you may find that quantity and density of hair growth lessen.

EPILATION NOTE: Using an epilator may cause reddening or irritation of the skin. This is a normal reaction that will disappear shortly. If the irritation does not disappear within a few days, you should consult your doctor.

Be sure the unit is plugged in.
Make sure your skin is clean, dry, and free of any creams, greases or oils.
Choose your desired speed: Low speed for sensitive areas and high speed for your legs and arms.
With your free hand, hold the skin tight to ensure that the hairs stand up straight.
Place flat against the skin, with the epilation head forming a 90 degree angle to the skin.
With a slow, continuous movement, pass the unit in the direction of hair growth across the skin. If results are not optimal when passing the unit in the direction of the hair growth, small circular movements along the skin will also produce desired results.
Repeat this process over desired areas until unwanted hair is removed.
Once complete, turn off the epilator and remove the adapter if corded.

SENSITIVE AREA ATTACHMENT: For hair removal on your most sensitive areas, remove the full-size epilation attachment and replace it with the sensitive-area attachment as follows.

Ensure that the epilator is turned off.
Press the epilation attachment release button located on the side of the unit.
Remove the full-size epilation attachment.
Position the sensitive-area attachment in the correct location covering the top of the unit.
Press gently until the attachment clicks into position.