Use the following zoom and pan buttons to control the image that follows them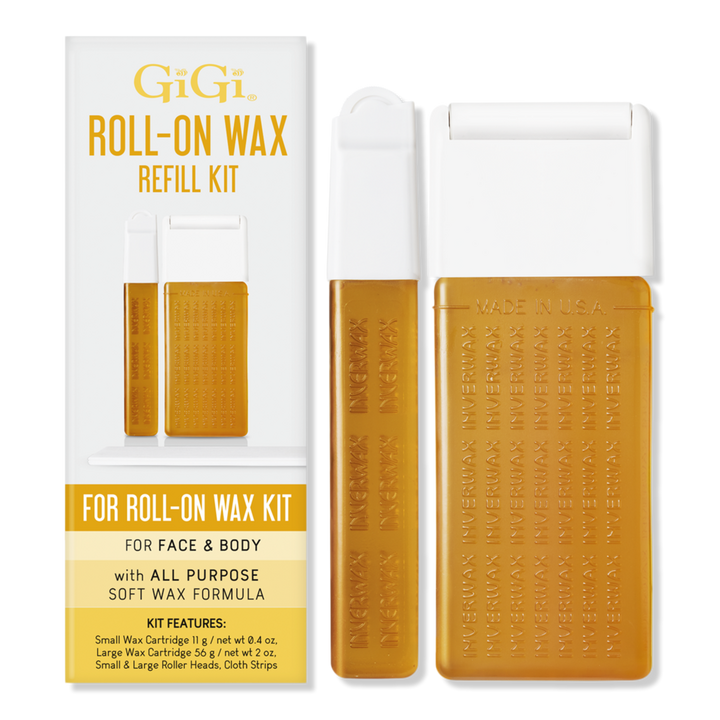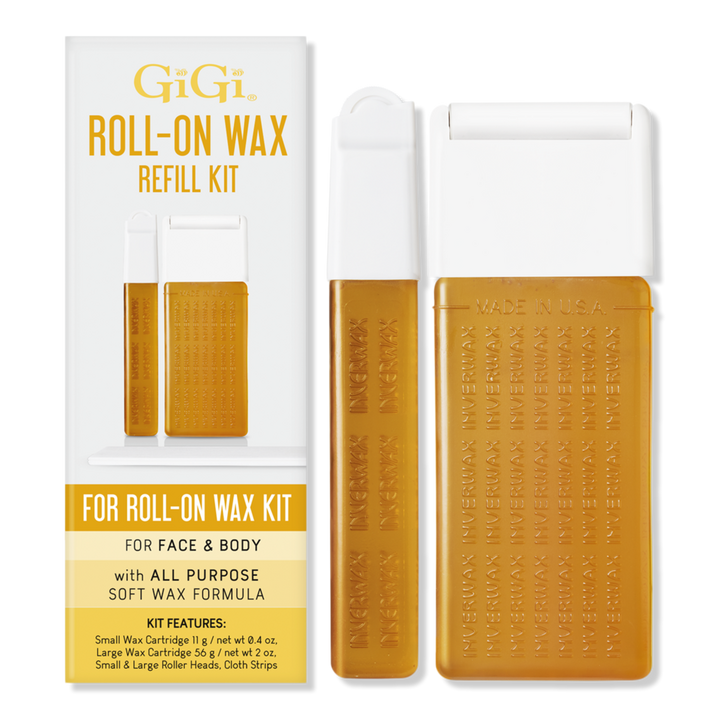 Summary
The GiGi Roll-On Wax Refill Kit contains all the components to replace the wax cartridges, roller heads and waxing strips in the GiGi Roll-On Waxing Kit.
Details

Benefits

Refills the wax cartridges, roller heads and waxing strips for the Roll-On Waxing Kit
GiGi's All Purpose Honee soft wax formula for face and full body hair removal
Small roller head for the brows and face
Large roller head for the body
Cloth waxing strips can be cut for waxing smaller areas

Includes

All Purpose Honee Small Roll-On Wax Cartridge (0.4 oz)
All Purpose Honee Large Roll-On Wax Cartridge (2.0 oz)
Small Roller Head
Large Roller Head
15 Large Cloth Waxing Strips
How To Use

ROLLER HEADS + WAX CARTRIDGES:
After removing the caps from the waxes, attach roller heads to wax cartridges and place in the wax warmer.
To start the flow of a new roll-on wax cartridge prior to waxing, remove applicator from waxing unit and turn upside down at a 45° angle. Wait a few seconds to allow air bubbles to rise and wax to flow into the roller head. Roll a small amount of wax onto a piece of paper or a brown paper bag, to ensure an even flow of wax.

WAXING STRIPS:
Waxing strips can be used as is for larger areas of the body such as the arms and legs and can be cut to customize for smaller areas such as the face, brows and underarms.

Precautions: DO NOT HEAT IN MICROWAVE, OVEN OR ON A STOVE. EXTERNAL USE ONLY. KEEP OUT OF REACH OF CHILDREN. Caution: Test a small area on the backside of your wrist for temperature sensitivity. Do not use on Irritated, cut or broken skin. Do not use inside nose, ears, on nipples, eyelashes, warts, and moles or near internal genital area. Do not use if you have varicose veins, diabetes, phlebitis, chapped sore or sunburned skin, recent scar tissue, eczema or any skin disorder. Do not use if you are using Retin-A, Accutane, Glycolic Acid, and Alpha Hydroxy treatments. Do not use soaps or astringents for 2 hours after application. Avoid the sun, tanning and hot water for 8 hours before and after any hair removal treatment.
Ingredients

All Purpose Honee: Glyceryl Hydrogenated Rosinate, Dipropylene Glycol Dibenzoate, Methyl Hydrogenated Rosinate, Honey Extract (Mel, Extrait de miel).