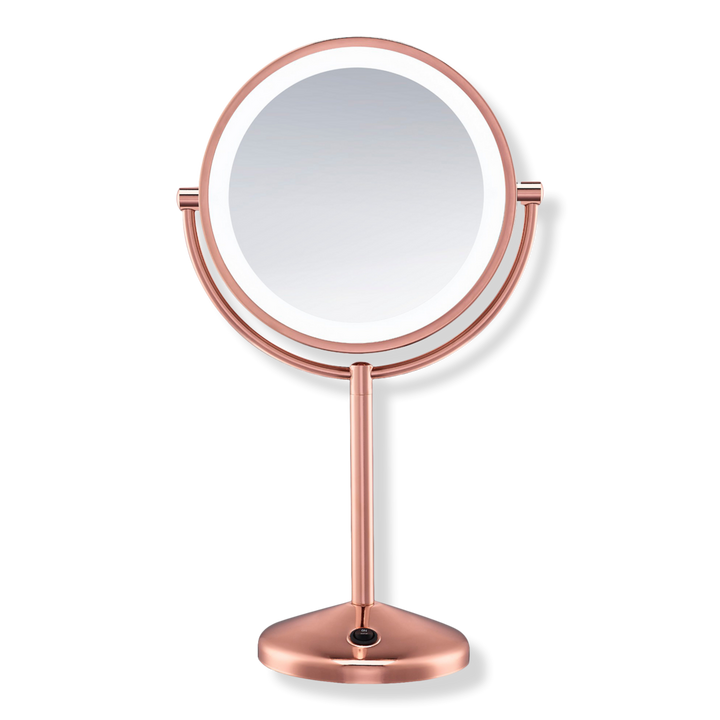 Summary
Conair Reflections 1X/10X LED Rose Gold Polished Chrome Make-Up Mirror has 1x/10x dual side magnification.
Details

Features

Polished Rose Gold LED Lighting Makeup Mirror
7.5 X 15H
1X/10X Dual Side Magnification
Rotates 360 degrees for regular viewing
8'' Diameter
Uses 3AAA (not included)
On/Off Switch on Base

Benefits
How To Use

Your LED lighted makeup mirror has a 7.5 in. in diameter with 10x/1x magnification.
This unit operates on 3 AA batteries (not included, see illustration).
After use, always turn switch to the OFF position.
The beauty and design of this mirror will complement any environment. Therefore, you may wish to leave the mirror displayed. However, if you choose to store the mirror, see STORAGE for detailed information.
This mirror has an ON/OFF settings switch on the base. Special Feature: This lighted makeup mirror uses Energy Saving LED bulbs. Replacement bulbs are not required.

TO INSTALL BATTERIES (not included): Remove battery cover. Install 3 AA new batteries as indicated on battery compartment. Replace battery cover by snapping it into place.

Precautions: TO REDUCE THE RISK OF BURNS, ELECTROCUTION, FIRE, OR INJURY TO PERSONS: Read all instructions before using the appliance. To protect against electrical hazards, do not use while bathing or in the shower. Close supervision is necessary when any appliance is used by or near children or by individuals with certain disabilities. Do not operate this appliance if the appliance malfunctions or has been dropped or damaged in any manner. Return appliance to nearest service facility for examination, electrical or mechanical adjustment, or repair. No repairs should be attempted by the consumer. Use appliance only for intended it's use as described in this instruction book. The use of attachments not recommended or sold by Conair may cause hazards. Do not use outdoors or operate where aerosol (spray) products are being used, or where oxygen is being administered. Be sure mirror is not in a position where it can reflect sunlight; reflected sunlight can cause fire. Do not use on a soft surface such as a bed, where openings may be blocked. Turn switch to OFF position before storage. Do not place or store appliance where it can fall or be pulled into a tub or sink. Do not place in or drop into water or other liquids. 12. If an appliance falls into water, Do not reach into the water.