Use the following zoom and pan buttons to control the image that follows them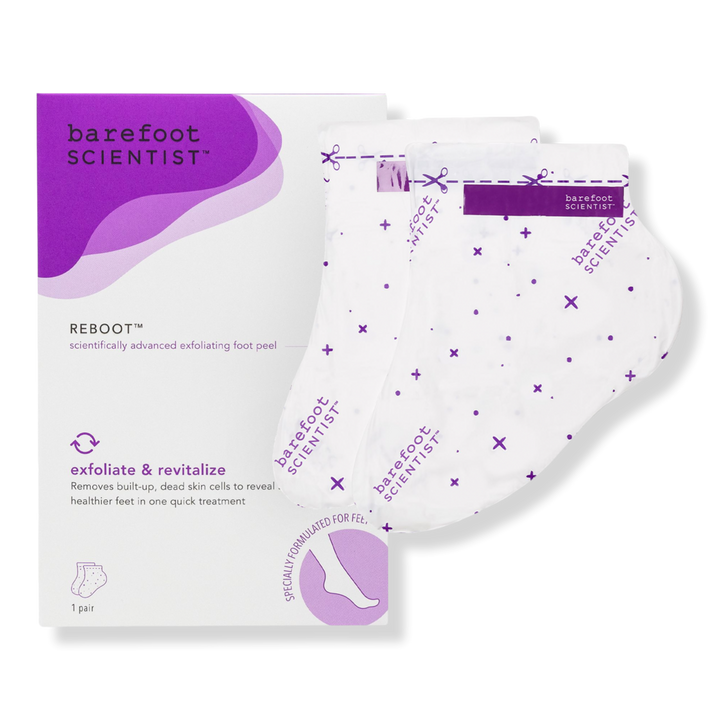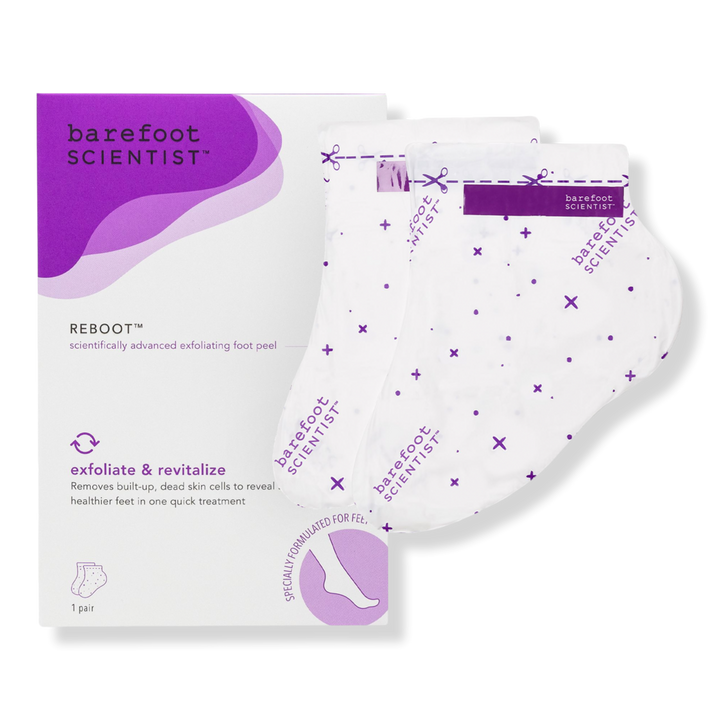 Summary
Reboot Revitalizing Foot Peel is a gentle, exfoliating foot peel from Barefoot Scientist that removes dead, dry skin cells to reveal healthier, softer feet.
Details

Benefits

A gentle scientifically formulated foot peel designed with sensitive skin in mind
Milder alpha-hydroxy acids start the exfoliation process - removing the unwanted build-up of dead, dry skin cells, without stripping skin like harsher peels
Antioxidant-rich fruit extracts delicately moisturize and nourish your entire foot throughout the treatment
If you've been too worried to try a high acid content foot peel or you have more sensitive skin, this is the perfect gentle 'starter foot peel' for you
Because this is a light peel for the entire foot, we recommend targeting hardened skin and callused heels with In The Buff siliglass pumice stone and/or The Gratest professional rasp from the Barefoot Scientist collection
Hypoallergenic
Free of Phthalates & Parabens
Dermatologist tested
Specially formulated for feet
TSA approved

Key Ingredients

Lactic Acid removes dead skin cells & toxins
Glycolic Acid accelerates the exfoliation process
Allantoin promotes cellular regeneration & nutrient absorption
Lemon Fruit Extract cleanses, tones & brightens skin
Papaya Fruit Extract removes impurities & soothes skin
Apple Fruit Extract nourishes with vitamin C & natural acids
How To Use

Prep your feet by cleaning them and soaking them in warm water for about 10 minutes. Remove each of the single-use booties and cut along the dotted lines to create an entry point for your feet. The pre-measured amount of peel-initiation gel included in each is perfect for a single treatment. Dry feet and place one foot inside each bootie and close with the attached adhesive tape. Move feet around within the bootie to help coat your skin. Leave on for 90 minutes to allow enough time for the gel to absorb. Remove the booties and thoroughly rinse feet with water and dry with a towel to clean off all remaining gel. Discard booties after use. Soaking your feet in water again in the days after the treatment may help to speed the exfoliation process. If peeling does not appear to occur after several days, gently wash feet with warm water and a washcloth to assist with cell turnover. Once feet have fully exfoliated, use In The Buff stone and/or The Gratest rasp for deeper exfoliation of hardened skin and callus removal. We also recommend High Dive intensive hydration cream from our collection for skin hydration maintenance. Use the peel every few months, or as needed when you want brightened, exfoliated feet.
Ingredients

Water, Lactic Acid, Matricaria Flower Extract, Betaine, Methylpropanediol, Allantoin, Lemon Fruit Extract, Aloe Extract, Papaya Fruit Extract, Orange Fruit Extract, Apple Fruit Extract, Lemon Peel Oil, Glycyrrhetinic Acid, Hydroxyethyl Urea, Glycolic Acid, Glycerin, Lavender Oil, Isopropyl Alcohol, Sodium Citrate, Menthol, Alcohol Denat., Sodium Dodecylbenzenesulfonate, Triethanolamine.