Use the following zoom and pan buttons to control the image that follows them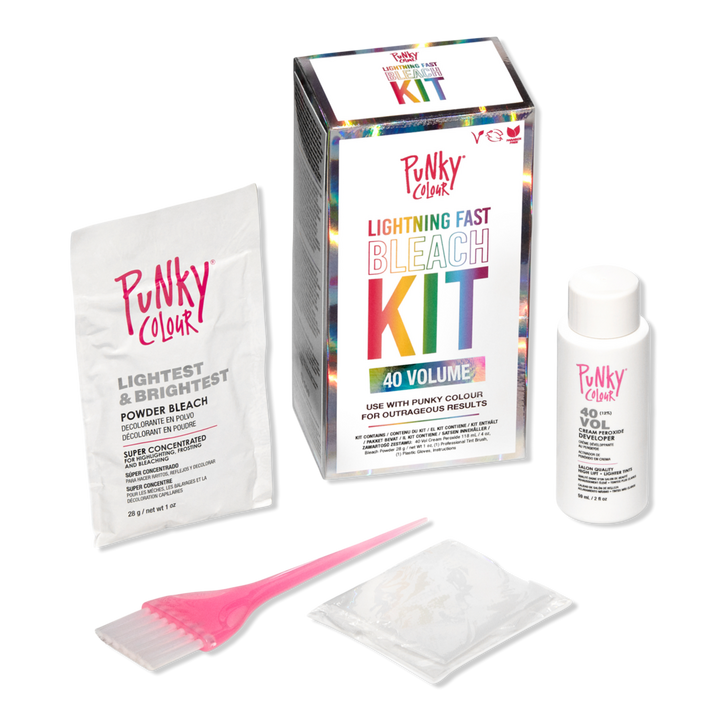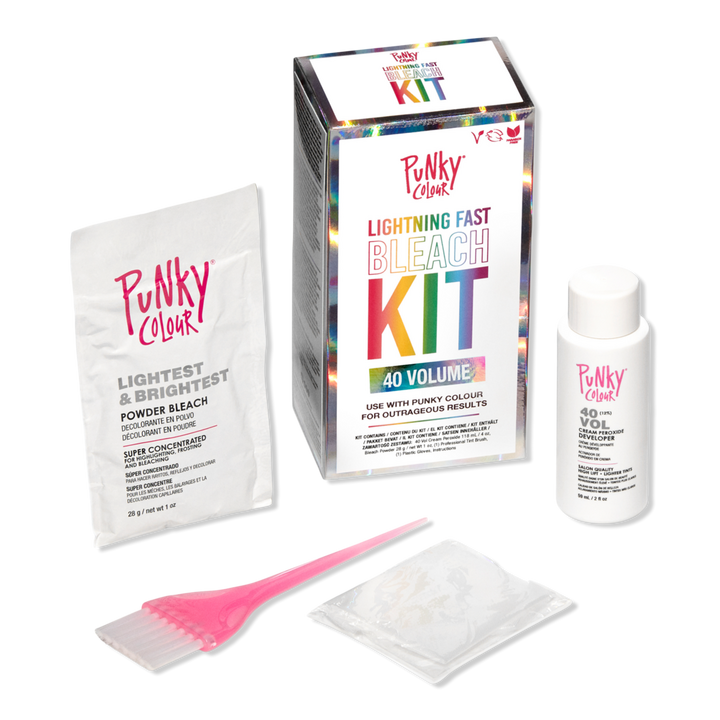 Punky Colour
Lightning Fast Bleach Kit
Item 2523769
3.4 out of 5 stars. 110 reviews
Q & A
Summary
Achieve vivid, long-lasting Punky Colour results by pre-lightening dark hair with this all-in-one kit.
Details

Features

Achieve vivid, long lasting Punky Colour results by pre-lightening dark hair with this all-in-one kit
The off the scalp Lightest & Brightest bleach formula is activated with 40 vol developer for fast lightening
Lighten your hair with Punky Colour Lightning Fast Bleach Kit

Disclaimers

Punky is excited to offer trending package updates for this item. The package you receive may differ from the attached image(s). Kits contain same great Punky products!
How To Use

USE THE GUIDE BELOW FOR PROCESSING TIME: Combine 1/2 Tbsp. powder with 1 Tbsp. of developer. Ratio 1:2 Mix until creamy. Apply to a small section of hair. Wrap hair in foil or plastic to protect surrounding hair. No heat required for processing. Check hair every 10 minutes by wiping off a small amount with damp towel. If hair appears too red or gold, reapply mixture and continue timing. When section has achieved desired lightness, wipe off and process with full application. HOW TO BLEACH YOUR HAIR AND GET THE RESULTS YOU WANT. Remember: Blonding depends on the natural hair color, condition, and porosity of the hair. The darker/coarser the hair, the longer to process. Do Not Use heat. Product is designed to work at room temperature. Mixing and Application of Bleach WEAR GLOVES TO PROTECT HANDS. Apply to dry hair. Empty contents of powder packet into a non-metallic bowl. Gradually add 2oz of Cream Developer (refer to measurement line on bottle) and mix to a creamy consistency. Apply to desired areas. You can use a frosting cap or foils to streak or chunk your hair. Keep the bleach at least 1/4 inch from scalp at all times! No heat required for processing. Check every 10 minutes until desired lightness has been achieved. Use cool water to rinse thoroughly until water runs clear. Do not save any unused mixture. Discard immediately after use. Gently shampoo & towel blot hair dry. Carefully comb or smooth hair to remove tangles. TIMING (all timing is approximate. Check hair often until the desired degree of lightening is achieved.) NATURAL HAIR COLOR: Light Blonde to Dark Blonde: 10-15 minutes Light Brown: 10-20 minutes Medium Brown: 10-45 minutes Dark Brown to Black: 10-60 minutes

READ THIS FIRST! Hair should be clean and dry (No shampoo for at least 24 hours prior). Protect your clothing during application and cover any and all surfaces that may come into contact with the bleach mixture. Wear gloves while handling, mixing, and while applying mixture. Do a strand test to determine approximate processing time. See instructions in "Strand Test" section of instruction sheet. Use non-metallic containers or utensils around the bleach mixture. When opening packet, hold away from face and avoid inhaling contents. Do not use on eyebrows or eyelashes. Do not use on hair that has been processed with metallic dyes, henna, or has been previously bleached. Don't perm over-bleached hair. Do not apply if skin is broken or abraded. Do not apply directly to scalp. Keep at least 1/4" off scalp. Do not shampoo prior to application. Wait 24 hours before another chemical process. Keep away from heat and children. Do not store any unused mixture. Discard immediately after use. STRAND TEST: It is important to do a strand test for two reasons: To determine if this product contains ingredients that cause irritation. To determine approximate processing time.
Ingredients

Powder: Potassium Persulfate, Sodium Silicate, Ammonium Persulfate, Sodium Metasilicate, Silica Hydroxyethylcellulose, Sodium Stearate, Disodium EDTA.

Cream Developer: Water (Aqua, Eau), Hydrogen Peroxide, Ethoxydiglycol Ceteareth-7, Tetrasodium, EDTA, Sodium Stannate, Phosphoric Acid.
Shipping & Coupon Restrictions

Shipping Restrictions : This item cannot be shipped via air.