Glamnetic
Hello Kitty Pink Press-On Nails
New|Item 2597296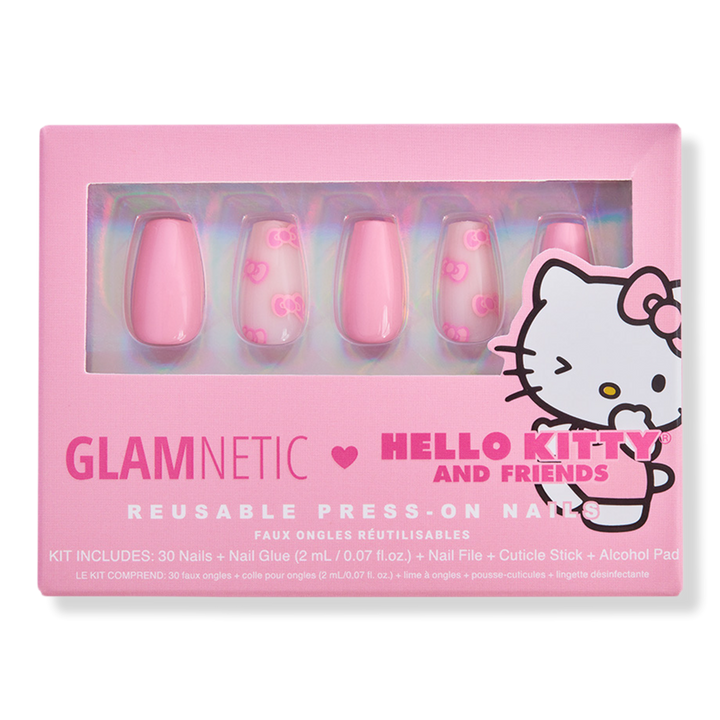 Summary
Kick off your vacay with Glamnetic's exclusive Hello Kitty & Friends collaboration! The Hello Kitty Pink Press-On Nail Kit comes in medium coffin shape, and offers a mix of solid pink nails with accent nails featuring signature Hello Kitty ribbon motifs.
Details

Features

Length: Medium
Shape: Coffin
Thickness: 0.9mm-1.0mm
Finish: Glossy
Opacity: Semi-transparent
Reusable, each wear lasts up to 3 weeks
Waterproof
Customizable
BONUS: Collectable stickers in character-specific designs to help you accessorize

Includes

30 Nails in 15 Inclusive Sizes
Nail Glue (0.07 oz)
Double-Sided Nail File
Cuticle Stick
Alcohol Pad

Disclaimers
How To Use

Nail Application Tips:

Remove any previously applied nail polish. Wash and dry hands
Gently push back cuticles using the cuticle stick and sanitize nails with alcohol pads
Size Glamnetic nails by placing on finger and select sizes best suited for your natural nails
Apply an even layer of glue to natural nails and the back of Glamnetic nails
Align Glamnetic nails with cuticle line and apply at a downward angle. Press down firmly and hold for 10-20 seconds
Apply all 10 nails and if needed, file or clip to achieve desired shape

Nail Removal Tips:

Soak nails in warm water for 10 minutes or until glue loosens
Gently peel Glamnetic nails starting from the side. Do not force removal, re-soak nails if required
Remove any excess glue using a buffer and moisturize hands after

Applies to included Nail Glue: Caution: Contains Ethyl Cyanoacrylate. Bonds skin instantly. Avoid contact with eyes, mouth and skin. Keep away from children. In case of eyelid bonding: consult a physician. In case of skin bonding: soak in water and ease apart gently. Do not use around eye area. Discard any unused glue after use.