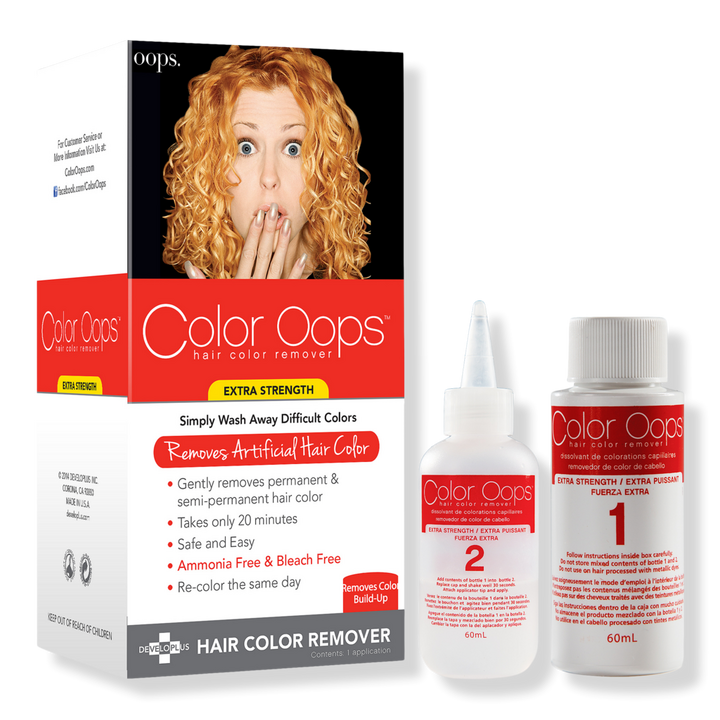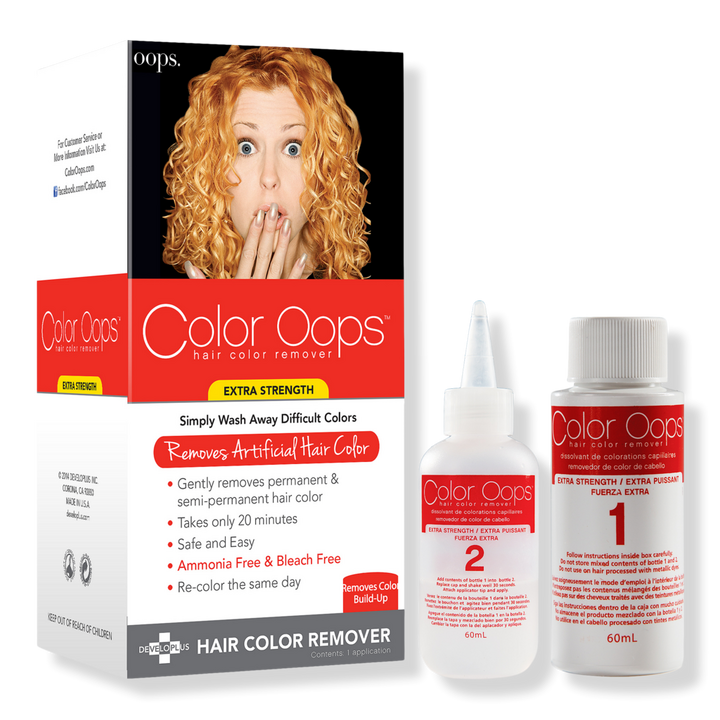 Product Type:
Extra Strength
Summary
Color Oops Extra Conditioning is the safest and most effective way to reverse an undesirable hair color application in just 20 minutes!
Details

Benefits

Corrects your hair color by shrinking the dye molecules, allowing you to simply wash them away
Unique formula is bleach-free and ammonia-free and will not have the damaging effects of bleach or ammonia-based products
Formulated to remove the most difficult colors and color build-up
Gentle that you can re-color your hair the same day
Formulated to remove regular oxidative hair color, not formulated for direct color dyes such as pinks, blues, greens, purples, etc.
How To Use

GET STARTED: Always conduct a strand test before applying Color Oops.* For longer or thicker hair you may need more than 1 box.Gently comb hair smooth-eliminate all tangles. Color Oops should be applied to DRY HAIR. Cover clothing with protective cape or towel. Wear gloves during application of Color Oops. Do not mix Color Oops in a metallic bowl, or let Color Oops come in contact with any metallic surface. Use the applicator bottle provided in kit.
MIX: While pointing bottle away from face, remove cap on applicator bottle #2. Pour entire contents of bottle #1 into applicator bottle 2. Replace cap on applicator bottle 2 and shake well for 30 seconds. While pointing bottle away from face, remove cap and place applicator nozzle on applicator bottle 2 (cut nozzle tip if necessary).
APPLY: Apply liberally to areas of hair that need hair color removal or correction.  Move quickly through the application as the activity of the mixture decreases with elapsed time. Be certain there is even and adequate product penetration throughout the areas of hair that color is being removed. Gently re-work through for even penetration.
PROCESS: Place cap on hair. Process up to 20 minutes. Check hair's progress frequently. While processing, be certain that the room is NOT cold and be certain that you are not sitting near a vent blowing cool air, as this will affect timing and results. Do not process longer than 20 minutes.
RINSE: Rinse with warm water and shampoo, then rinse for 15-20 minutes. (Yes - 20 minutes.) Shampoo again and rinse for another 5 minutes. Repeat 2 more times. Additional rinsing is needed for longer, thicker hair. This step is very important for desired results. The more you rinse the better your results. Apply a conditioner. Towel dry hair and check for amount of color removal. If additional color removal is needed, be certain to check hair condition, texture and porosity. If condition of hair permits, repeat above steps. DO NOT repeat more than 2 to 3 times (and always depending on condition of hair and scalp).
RE-COLORING ADVICE: If re-coloring hair is desired after using Color Oops, always check condition of hair and scalp before continuing. Before re-coloring your hair use a good protein conditioner beforehand. Apply conditioner to hair and place a shower cap over hair. Leave conditioner in your hair for a minimum of 20 minutes. The proteins will even out the porosity of hair and prevent the next color from grabbing too dark. When re-coloring hair, remember your hair will be more porous, and this should be considered when selecting color shade. Porous hair will always grab color and look darker or more ashen. For longer, thicker hair be certain to choose a hair color that is 1 to 2 shades lighter than desired shade because the color will grab quickly. Always do a STRAND and PATCH test with your new color. Testing a very small section of your hair with the new hair color will let you know exactly how long to process the new color. (In some cases it may only take 5 minutes to process the new color to your desire shade.)

Precautions: This product contains ingredients which may cause skin irritation on certain individuals. A preliminary patch test according to the accompanying directions should be first made. Avoid contact with eyes. If contact with eyes should occur, rinse thoroughly with water and consult a physician. This product must not be used on eyelashes or eyebrows. To do so may cause blindness. Not to be taken internally. Keep out of reach of children. PATCH TEST RECOMMENDED: Apply mixture of equal parts 1 and 2 on a small cleansed area behind the ear or the fold of the elbow. Remove after 24 hours with soap and water or immediately if irritation occurs. If irritation is apparent, DO NOT PROCEED WITH APPLICATION! PLEASE NOTE: Color Oops is formulated to remove regular oxidative hair color, it is not formulated for direct color dyes such as pinks, blues, greens, purples, etc.
Ingredients

Part 1: Deionized Water, Sodium Hydrosulfite, Fragrance,Polysorbate-80, Hydroxyethylcellulose, Cocamidopropyl hydroxysultaine.
Part 2: Deionized Water, Citric Acid, Cocamidopropyl hydroxysultaine, Xanthan Gum.