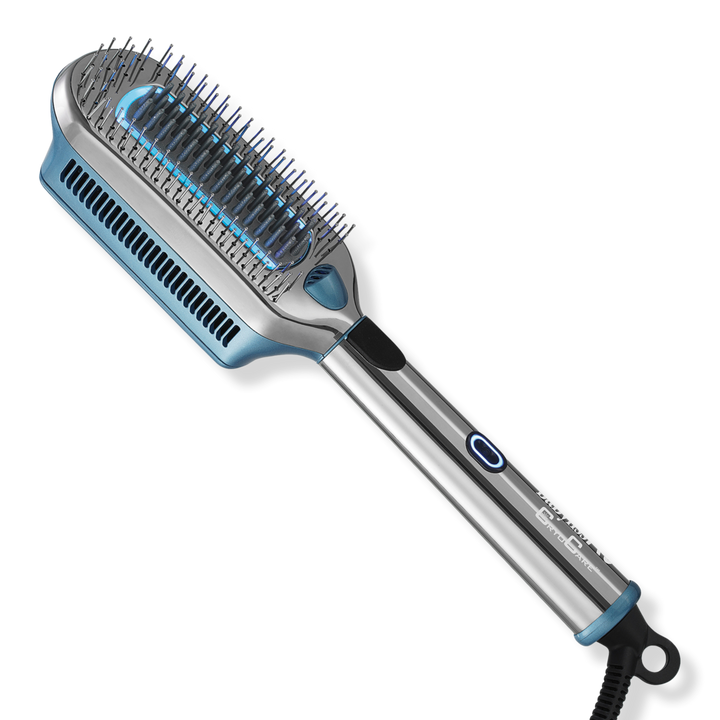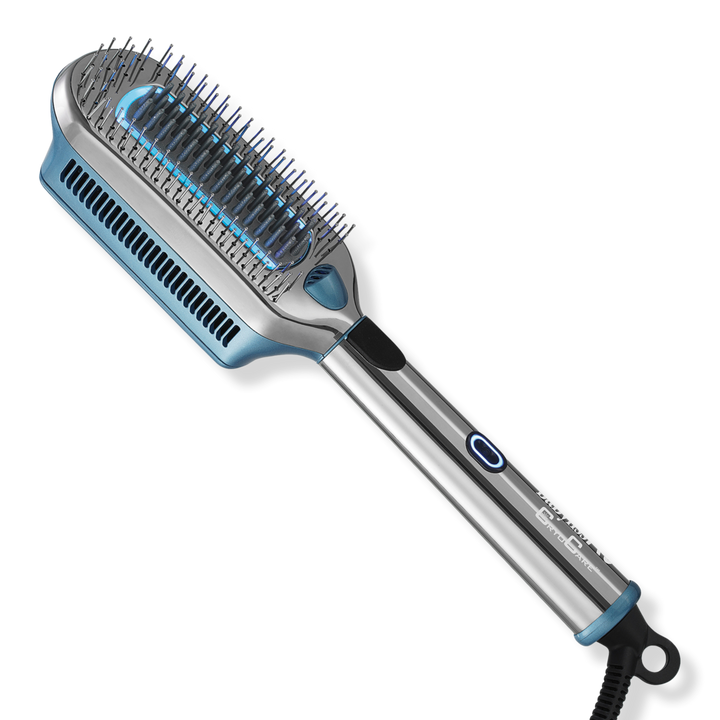 Summary
BaBylissPRO CryoCare The ColdBrush is a hair conditioning tool that uses freezing temperatures to hydrate and revitalize hair, improving the look, feel and overall condition.
Details

Features

Cold plate down to zero degrees C
Nano Titanium technology
Can be used on wet or dry hair
High-output ion generator
30 minute auto shut-off
Removable rear filter
Professional 9 ft fabric wrapped power cord
Includes deluxe travel clutch
Dual voltage for worldwide use
4-year limited manufacturer warranty

Benefits

The ColdBrush adds moisture back in, hydrating the hair, improving the look and condition
How To Use

TO TURN ON:

Press the ON/OFF button centered on The ColdBrush handle.
A blue LED light around the ON/OFF button and the cold plate will illuminate. You will hear two quite brushless motors
You will notice the cold plate will become very cold, freezing in fact, reaching below zero temperatures.

TO TURN OFF:

Press and hold the power button for 2-3 seconds to shut off The ColdBrush.
Both the power button and cold plate with no longer be lit, the motors will shut off, this means you've successfully powered down.
There is a 30 minute auto shut off just in case.

BEFORE BLOW DRYING (towel dried hair): Once your normal styling products have been applied, use the brush all over your head, as you would a regular brush (a few passes per section). Help detangle wet hair to make it more manageable - less tension = less breakage. Now you are ready to blow dry your hair. You'll be amazed at the quality and ease of each blowout. Hair will feel lighter, yet more volumized and fluffy, with longer lasting style.

DON'T HAVE TIME FOR A BLOWOUT (towel dried hair): Naturally drying your hair will never look the same. Help detangle and condition wet hair for a smooth, shiny, frizz free air dry. Especially if hair is chemically treated, this will help to tame and eliminate flyaways, yet allowing hair to dry fluffy, not flat, and with added shine. Hair will look and feel smoother and healthier.

DAY TWO OR THREE HAIR (dry dirty hair): If you don't have time for a fresh shampoo or want to extend your current style - refresh your hair with The ColdBrush. Focusing on the roots, allow the bush to break up buildup and detangle, giving yourself a refresher. When hair is dirty, the ends are usually dry - rehydrate your ends too! Hair feels lighter, cleaner and not weighed down. This will help to extend a blowout or just give that day two hair a facelift. Adding this step to your weekly haircare routine will also assist those who wash their hair too often - putting you on the path to healthier looking hair already.

AFTR BLOW-DRYING OR STRAIGHTENING (dry, styled hair): Revitalize and rehydrate, adding moisture back into each strand resulting in smoother, shinier, healthy-looking hair. This will not un-do your style, bet replenishes whatever natural moisture was lost during your hot styling. Using the brush after a blow dry or flat iron will help to recondition the hair and help the style last, as heat is known to drive moisture out. This makes The ColdBrush the perfect tool to finish any style.

USE OVER TIME (all hair types): You will notice a difference in the quality of your hair over time. The more you use The ColdBrush, the more results you will see. Styles will last longer, hair will look and feel healthier.

Precautions: See package insert for standard warning associated with electrical appliances.