Use the following zoom and pan buttons to control the image that follows them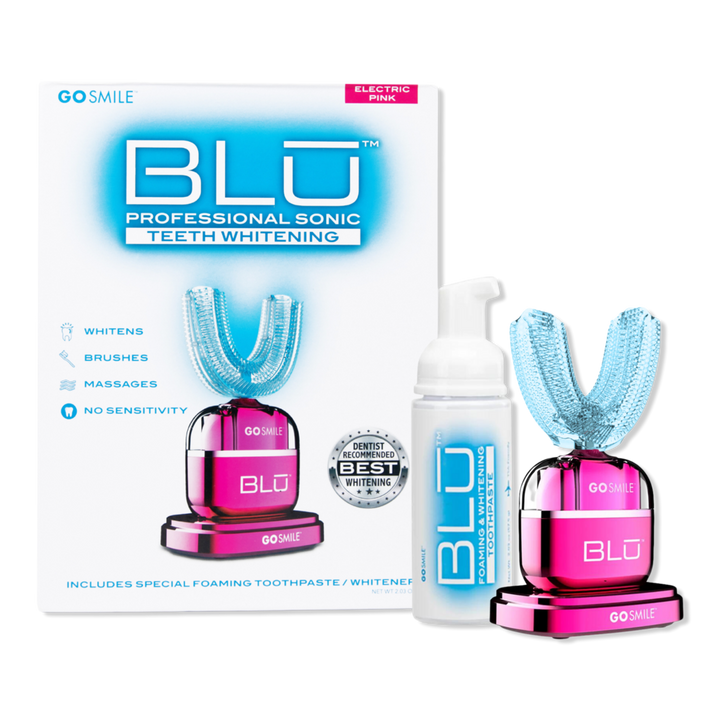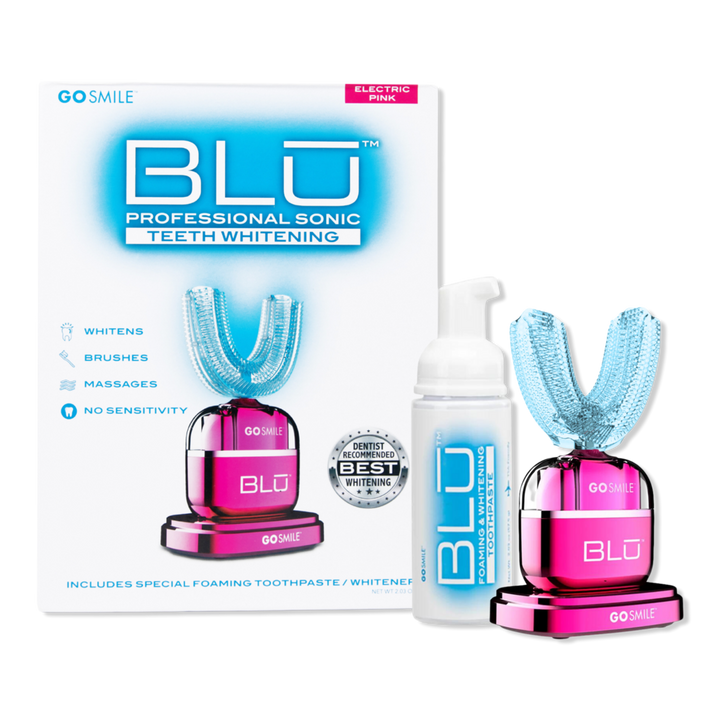 Go Smile
BLU Hands-Free Toothbrush And Whitening Device
Item 2597910
Color:

Summary
Go Smile BLU Hands-Free Toothbrush And Whitening Device is designed to visibly whiten and clean teeth, inside and out.
Details

Benefits

Blue light technology accelerates the whitening process while killing bacteria
Blue light technology decreases sensitivity while it whitens, prevention pain and discomfort
Blue light technology improves your heart heath and immune system with this low frequency, low-lightwave alternative
Blue light technology scientifically proven to decerase inflammation and sores in gums
Blue light technology scientifically proven to kill harmful, disease-causing bacteria so it can help stop or slow these conditions

Features

Hands-free option, perfect for multitasking
Regular and gentle modes with built-in-two-minute timer to meet the American Dental Association's recommended time for brushing
Silicone replacement brush head and whitening tray
Peroxide-free foaming & whitening toothpaste with Photocatalyst properties

Includes

Silicone Brushing Mouthpiece (1 ct)
Silicone Whitening Tray (1 ct)
Foaming Whitening Toothpaste (Peroxide-free) (2.03 oz)
How To Use

Step 1: Apply GO SMILE Foaming Whitening Toothpaste (included) inside silicone mouthpiece. Step 2: Turn on BLU, choose desired setting. BLU light only for whitening.Vibration only for healthy gum massage. BLU light and Vibration for teeth whitening and cleaning at the same time. Step 3: Place in mouth and let BLU do the work. BLU light activates the GO SMILE Foaming Whitening Toothpaste, accelerating the whitening process and massages the gums as it works the whitening white.

Precautions: Avoid long exposure to sunlight and never expose unit to extreme heat or boiling. Charge and store in a cool, dry place. If irritation (such as redness, swelling, soreness) of the gums or the mouth occurs, discontinue use and consult a dentist. Not recommended for use by children under 12 years of age. Avoid swallowing the cosmetic or part thereof. Avoid contact of the product with the eye. Consult a physician or dentist before use if you are pregnant or nursing.
Ingredients

Aqua, Propylene Glycol, Sorbitol, Sodium Lauroyl Glutamate, Xylitol, Allantoin, Poloxamer 407, Licorice, Ascorbic Acid, Sodium Phytate, Biotein, Folic Acid, Cyanocobalamin, Niacinamide, Pantothenic Acid, Pyridoxine, Riboflavin, Thiamine, Yeast Polypeptides, Mint, Nano Titanium Dioxide, Potassium Sorbate, Flavor.