Use the following zoom and pan buttons to control the image that follows them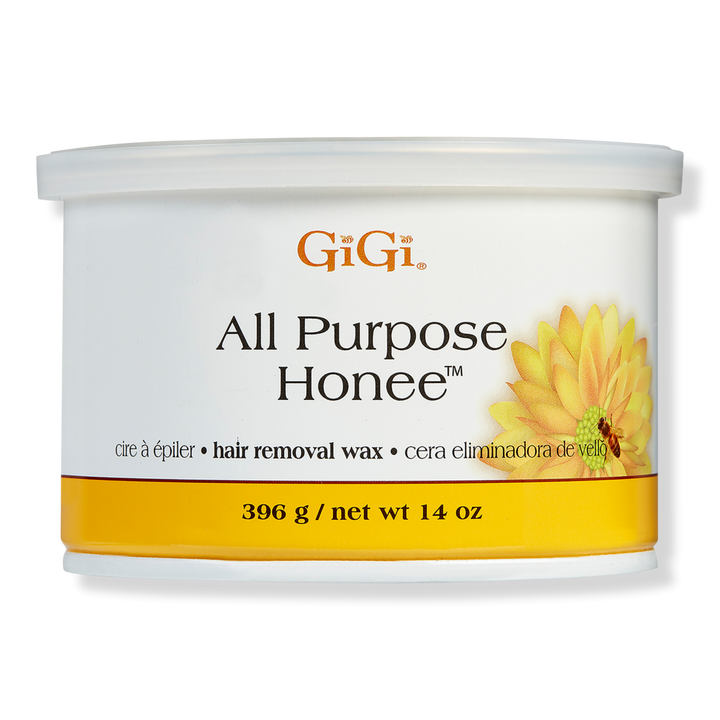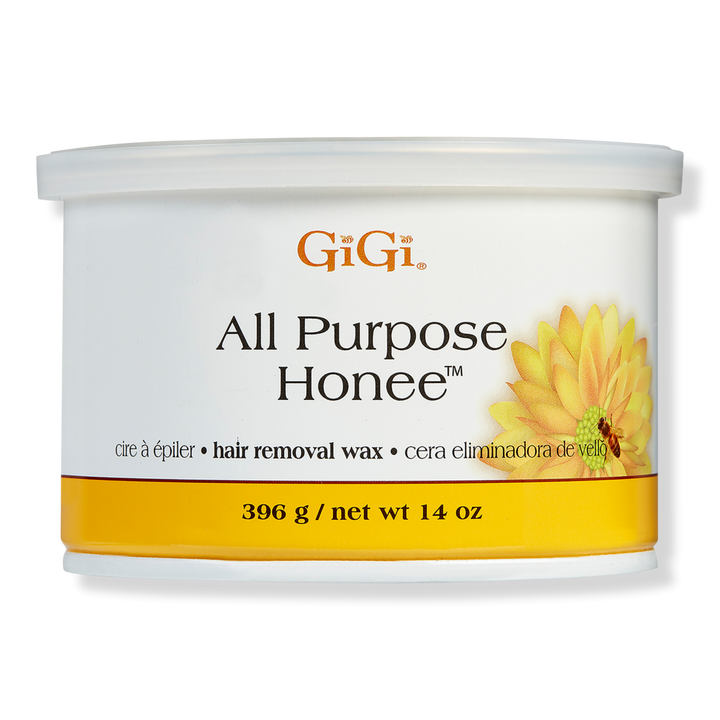 Gigi
All Purpose Honee Wax
Item 2543501
Summary
The GiGi All Purpose Honee Soft Wax formula will leave skin sleek, smooth and hair-free and is effective for all areas while being gentle on the skin.
Details

Benefits

All Purpose Honee Wax, GiGi's #1 professional formula
Soft wax formula, which means you'll need an epilating strip to place on the wax to remove it
Over 100 applications for small areas
Can be used on all hair types (fine, medium, coarse, resistant)
For all face and body areas (face, arms, underarms, chest, legs, bikini and back)
Gentle enough for delicate areas
Results last for weeks
How To Use

PREP & HEAT:

Place collar on GiGi warmer.
Remove plastic lid and place can in warmer. Set temperature to High for 15-25 minutes, then set to Low until wax has a thin/honey consistency.
Test wax temperature on the backside of your wrist before waxing.

READY TO WAX:

Cleanse area to be epilated with GiGi Pre Hon cleanser and then pat thoroughly dry with tissue.
Apply a thin layer of GiGi Pre Epilation Powder to absorb moisture and oil.
Holding the applicator at a 45 degree angle, apply a thin layer of soft wax in the direction of hair.
Place epilating strip over wax and rub strip firmly in the direction of hair growth.
Hold the skin taut and pull epilating strip off (parallel to the skin) with one quick motion in the opposite direction of hair growth.
Immediately apply firm pressure to epilated area with the cushion of your fingers or palm of your hand to calm the skin. Pro Tip: Use your waxed strip to remove any leftover wax from your skin.
Never re-apply soft wax to newly-epilated areas.

AFTER WAX CARE:

Apply GiGi Wax Off to remove any wax residue and to condition.
To maintain waxing results longer, smooth on GiGi Slow Grow, a hair minimizer, every day after showering.

Precautions: Keep out of reach of children. For external use only. Carefully read and follow the enclosed instructions. If wax should fall onto lashes, keep eyes closed. Apply a drop of petroleum jelly on area and remove with an eyebrow comb. Wipe with a moist tissue and then place a cotton swab at the corner of the eye to absorb residue. Test a small area on the backside of your wrist for temperature sensitivity. Do not use on irritated, cut or broken skin. Do not use inside nose, ears, on nipples, eyelashes, warts, and moles or near internal genital area. Do not use if you have varicose veins, diabetes, phlebitis, chapped, sore or sunburned skin, recent scar tissue, eczema or any skin disorder. Do not use if you are using Retin-A, Accutane, Glycolic Acid, and Alpha Hydroxy treatments. Do not use soaps or astringents for 2 hours after application. Avoid the sun, tanning and hot water for 8 hours before and after any hair removal treatment.
Ingredients

Glyceryl Hydrogenated Rosinate, Dipropylene Glycol Dibenzoate, Methyl Hydrogenated Rosinate, Honey Extract (Mel Extract, Extrait de miel).