Use the following zoom and pan buttons to control the image that follows them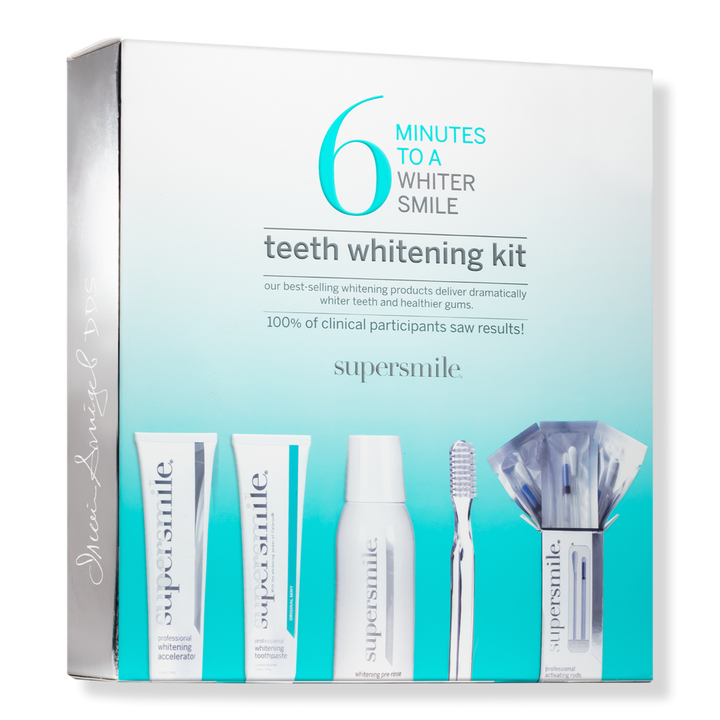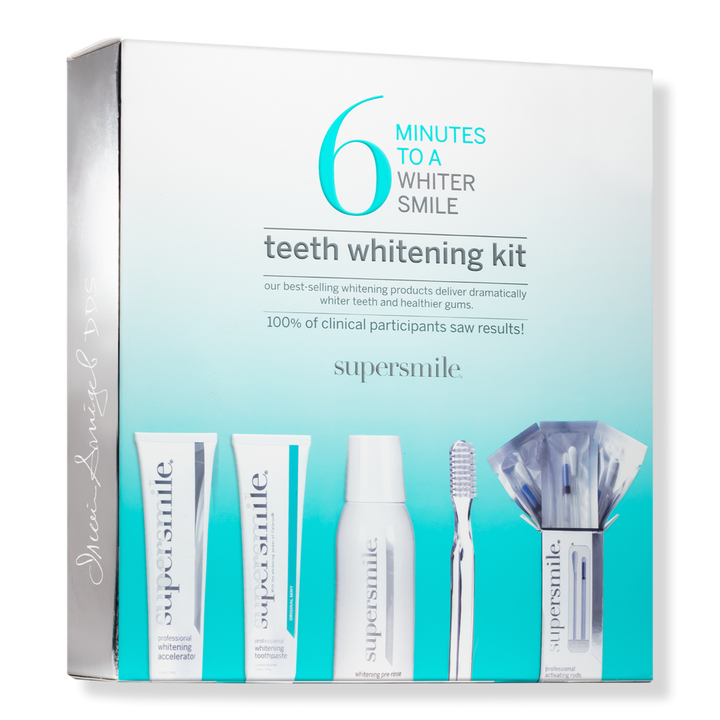 Supersmile
6 Minutes To A Whiter Smile Kit
Online only|Item 2534709
$54.00
Kit Price ($80 value)
Summary
6 Minutes to a Whiter Smile combines five of Supersmile's best selling whitening products. In just 6 Minutes you will achieve a whiter, brighter, healthier smile without sensitivity!
Details

Features

Created by Dr. Irwin Smigel, the father of cosmetic dentistry
Contains the unprecedented science of Calprox, Supersmile's proprietary whitening ingredient that safely whitens by dissolving the proteins that stains (from coffee, tea, wine, smoking, etc.) stick to
See results in 6 minutes
No lights, trays, strips or gels needed
Just brush every day for 2 minutes, twice a day
Contains a 30-day supply of Supersmile's most popular whitening products

Benefits

See results the first time you brush
*Whitens teeth 6 shades (on average) in 5 days *Clinical data on file, when used as directed, results may vary
Cleans and whitens teeth without sensitivity
*75% less abrasive than the limit set by the American Dental Association (ADA) *Clinical data on file, when used as directed, results may vary
Inhibits plaque 10X better than leading plaque-fighting toothpastes
Improves oral health
Restore natural teeth as well as dental restorations (veneers, bonding, caps)
Vegan
Kosher

Includes

Professional Whitening Toothpaste (1.4 oz): Contains the advanced proprietary ingredient Calprox
Professional Whitening Accelerator (1.2 oz): Lifts deep-set stains & accelerates the whitening process; works synergistically with the toothpaste to achieve maximum whitening results
Professional Whitening Pre-Rinse (5.0 oz): The one-of-a-kind Pre-Rinse is clinically formulated with whitening ingredients to safely and effectively prime teeth for whitening
New Generation Toothbrush
Professional Whitening Rods (5 ct): Simulate the first step in Dr. Smigel's in-office whitening procedure to prepare to teeth for optimum whitening
Shade Guide
Ingredients

Professional Whitening Accelerator: Water, Glycerin, Urea Hydrogen Peroxide, Potassium Hydroxide, Carbomer, Sodium Saccharin, Etidronic Acid, EDTA.

Professional Whitening Toothpaste: (Original Mint) Active: Sodium Monofluorophosphate (0.14% w/v Fluoride Ion).
Inactive: Water, Sorbitol, Dicalcium Phosphate, Calcium Carbonate, Sodium Bicarbonate, Titanium Dioxide, Cellulose Gum, Calprox, Sodium Perborate, Corn Starch, Flavor, Magnesium Carbonate, Sodium Lauryl Sulfoacetate, Sodium Saccharin.

Activating Rods: Deionized Water, Hydrogen Peroxide, Sodium Bicarbonate, Tetra Potassium Pyrophosphate, Potassium Carbonate, Sodium Benzoate, Sodium Tripolyphosphate, Poloxamer 407, Cetyl Pyridinium Chloride, Sodium Sacchrinate, Tween 20, Glycerine, Sorbitol, Flavor, Malic Acid.

Oral Pre-Rinse: Water, Glycerin, Sorbitol, Hydrogen Peroxide, Polysorbate 20, Malic Acid, Sodium Bicarbonate, Sodium Saccharin, Flavor, Potassium Carbonate, Sodium Benzoate, Sodium Tripolyphosphate, Tetrapotassium Pyrophosphate, Cetylpyridinium Chloride.